We offer three models of tail wheels. They all feature carbon fiber springs which are made in compression molds and cured in an autoclave. There are three different spring dimensions. All of our tail wheels have identical yoke and wheel assemblies. The wheel, yoke, spring and steering arm are all included when you buy an assembly.
Our large tail wheel assemblies are 10.5 inches long and will lift the back of the fuselage 4 1/2 inches off the ground. The assemble weighs less than 3 ounces. The carbon fiber spring is 3/16 of an inch thick and 7/8 inches wide. These tail wheels are intended for aircraft in the 35% to 45% size category.
The tail wheels with the shorter springs are 9 inches long and will lift the back of the fuselage 3 1/4 inches off the ground. The assembly weighs less than 3 ounces. The carbon fiber spring is 1/8 inch thick and 7/8 inches wide. These tail wheels are intended for aircraft in the 25% to the 30% size category. The extra large carbon fiber spring is 12" long and lifts the back of the fuselage 6" off the ground. It is thicker and stronger and aimed at the larger heavier 40 to 45% airplanes.
All our tail wheels come ready to accept a steering arm (supplied) for those who like to use springs from the rudder horn or push rods. We also drill a 1/16 hole through the yoke to accept a tiller arm or direct drive steering method. See the Gallery for photos of our direct drive tiller arm installations. Pre-bent tiller arms are available and pictured at right. If you plan on using steering springs we offer a great little kit that includes the springs, coated wire cables, and crimps also pictured at right.
Our standard tire is a softer compound a la Du Bro. We also offer an optional urethane spoked wheel that is molded directly onto the hub. This stuff is tough as nails and will take lots of abuse. Industrial conveyor systems, roller coaster wheels and skate boards all utilize urethane tires. The draw back to the urethane is the noise on hard surface runways but you will never wear it out. Both of our tail wheel/tires are pictured at bottom right.
COMPLETE ASSEMBLIES
(does not include steering system)
Tail wheel assy. with Large CF Spring
(35-40%) airplanes
Drawing & Dimensions
$99.00
Tail wheel assy. with Small CF Spring
(20-30%) airplanes
Drawing & Dimensions
$99.00
Tail wheel assy. with Extra Large CF Spring (45-50%) airplanes
Drawing & Dimensions
$109.00
ACCESSORIES & UPGRADES
Up Grade Extended Steering Arm
(replaces regular steering arm)
$4.00
Up Grade Spoked Urethane Wheel
(Requires order of complete TW assembly replaces regular soft tire wheel)
$15.00
Wheel/Tire Regular (soft)
$23.00
Wheel/Tire Spoked
$35.00
Yoke
$42.00
SPRINGS
Spring, Extra Large CF
$39.00
Spring, Large CF
$35.00
Spring, Small CF
$34.00
ACCESSORIES
Steering Arm regular
$10.00
Steering Arm Extended
$13.00
Bushings - pair
$7.00
Bushing replacement by WRE
$14.00
Tail Wheel Overhaul Kit
(Two wheel bushings-two yoke bushings- a new steel axle sleeve-pivot shaft & hat.
$25.00

Compression Spring Steering Kit

(includes attaching wires and crimps)

$20.00

Direct Drive Tiller Arm Kit

(Includes all attaching material)

$17.00
Soft tail wheeel tire only
$7.00

All prices plus shipping & handling

---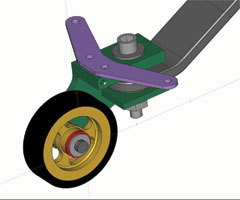 The tail wheel assembly with carbon fiber spring, colors are illustrative only. Optional spoked wheel shown
Both the wheel hub and the yoke are CNC machined from 6061 billet aluminum. The axle and the yoke pivots rotate on lubricant impregnated bushings. There is also a pair of nylon thrust washers captured between the spring and the yoke. There are no moving metal to metal fits. A steel thin wall sleeve (.031) is pressed over the aluminum axle to insure long service life.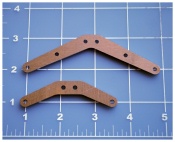 Our steering arms
Some applications, particularly those with a wide rudder, make it difficult to use our regular steering arm (pictured below the extended arm). We now offer an extended steering arm for these situations.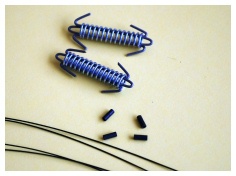 The compression spring kit
Pictured above is the neatest steering connection package that we have seen to date. The springs are compression type which means they cannot stretch, the black wires do the connecting and crimps are included to make the installation easy.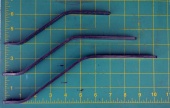 The three carbon fiber springs that we offer
Pictured above are all three of the carbon fiber springs we offer. For those with planes that are either big, heavy, or need to get the tail further off the ground we have added a larger spring. You get almost 3 inches in additional length, the tail is 2 inches further off the ground, and the spring is thicker and stronger. Your existing tail wheel yoke and wheel will bolt right onto any of our springs.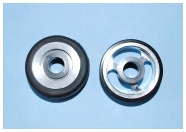 Our selection of tail wheels
We offer tires for all types of field surfaces. Our regular tire is a soft compound for all around use. We also offer an optional hard urethane covered spoked wheel for maximum wear. The spoked wheel with the urethane tire is the lightest combination we offer. Our regular tire is on the left. Our spoked urethane tire is shown on the right. They are interchangeable. Some customers have been unhappy with the noise the hard urethane tires make on hard surfaces.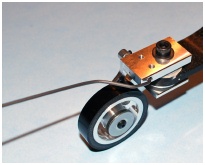 Direct drive tiller arm set up
We have the direct drive tiller arm kits available which include the attaching collar and ball link, everything you will need.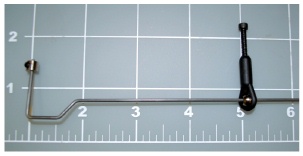 Tiller arm Kit